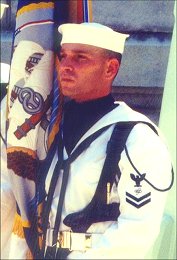 Brian Anthony Moss
(1966 - 2001)
Brian Anthony Moss
Born Oct. 28, 1966 in Tulsa, OK, to Pat and Billy Moss. Brian, who was of Cherokee descent, graduated from Sperry High School in 1984. He then attended NEO at Miami, OK, on an academic scholarship where he earned a degree in business management. He worked for a Tulsa brokerage firm until he was transferred to their Washington D.C. office in 1988.
Brian returned to Sperry in 1990. After telling his parents he felt compelled to do something more with his life, he joined the U.S. Navy on March 8, 1990. After finishing radioman school in San Diego, he reported to his first command at the Naval Facility Command, Adak, Alaska. While there, he met and married the former Mary Lou Misamore of Toledo, Ohio on December 28, 1992.
Following his tour of duty, Brian decided that he wanted to join the submarine community because it was an elite force. He was always looking to better himself, his career and family. He volunteered to join the Navy's elite submarine force and completed his training at the Naval Submarine School in Groton, Connecticut in December of 1993.
Before checking aboard his first submarine, Brian and Mary Lou's first child, a daughter, Ashten was born. Brian was stationed onboard the USS Alabama and was a member of the Blue Crew.
During the 4½ years at Sub Base Bangor, WA, a son, Connor, was born. Brian sacrificed his Sailor of the Year Board in order to witness his son being born. Since he missed his daughter's birth due to Trident Training School he wasn't about to miss this one.
Following completion of his sea duty, Brian was selected to become a member of the prestigious Naval Ceremonial Guard located in Washington, D.C. He quickly accelerated to the position of Divisional Leading Petty Officer for the elite Guard, in which he served for three years. Brian was primarily assigned to train the young Guardsmen to represent the Navy to the world. During his time with the elite Guard, he performed in countless ceremonies including the 54th Presidential Inauguration, Joint Service Pentagon arrivals, retirements, and laid fellow shipmates from the USS COLE (DDG 67) to rest at Arlington.
He transferred to the Pentagon in Washington D.C. on August 15, 2001 and was assigned to the Chief of Naval Operations Telecommunications Center. He had just moved into his new office that week and he talked about the huge Navy seal in the floor right outside his new office. On September 11, 2001 Petty Officer Second Class Brian Moss was killed while on duty when a high jacked airplane crashed into the Pentagon.
During Brian's distinguished twelve-year naval career, he earned the following awards and decorations: Purple Heart (posthumous); Navy and Marine Corps Commendation Medal (two, one posthumous); Navy and Marine Corps Achievement Medal (five); Navy Battle "E" Ribbon; Good Conduct medal (three); National Defense Service Medal; Navy and Marine Corps Overseas Ribbon (two); Pistol Marksman Medal (Expert); Rifle Marksman Ribbon (Sharpshooter); Submarine Warfare Designation; SSBN Deterrent Patrol Pin (eight); and Naval District Washington D.C. Sailor of the Year 2000 - 2001.