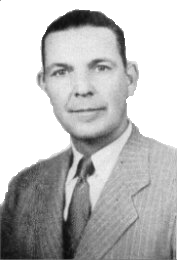 Clifton William Herrington
(1902 - 1986)
Clifton William Herrington
Clifton (Cliff) Herrington was born in Antlers, Oklahoma in 1902. A part Choctaw Indian, his family moved to Sperry in 1907. Cliff was one of four students in the first graduating class of Sperry High School in 1922. He is a graduate of Central State Teachers College in Edmond, Oklahoma. In college, Cliff was very involved in athletics. He lettered in baseball and basketball and served as captain and quarterback of the Central State football team. One of the highlights of his college football career was a 2-0 victory over Oklahoma University in 1924. After college, Cliff taught and coached in several small schools in Oklahoma, eventually returning to Sperry High School where he continued his teaching and coaching career. In 1926 he married Helen Grace Page.
Cliff began teaching and coaching football at Sperry in 1935, taking over for Hap Dunlap who had compiled an impressive record in football from 1930 to 1934. In fact, Sperry captured the Class B state football championship in 1934, winning 23 straight games.
Cliff's coaching accomplishments were no less significant. One of his baseball teams earned the right to play in the Class B state tournament only to lose in the championship game despite turning a triple play. His many other coaching accomplishments included an undefeated football team in 1939. That year, the only opposing team to score was Jenks who managed to kick a field goal. Coach Herrington had another undefeated team upcoming in 1941. Unselfishly, he elected to step aside and allow fellow coach Alvin White the experience of coaching an undefeated team.
Cliff became Superintendent of Sperry Schools in 1941 and continued teaching for several years thereafter. During World War II, he worked for the Corps of Engineers in Tulsa, returned to Sperry Schools as Superintendent and was later reemployed and retired from the Corps of Engineers.
Throughout his career as a teacher, administrator and coach, Cliff managed to gain the respect of all of the students whose lives he touched, especially from those that participated in athletics. Cliff died on September 22, 1986 and is buried in Rose Hill Cemetery in Tulsa, Oklahoma.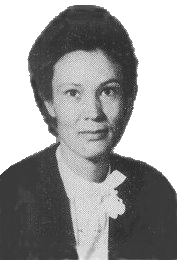 Helen Grace Herrington
(1907 - 1998)
Helen Grace (Page) Herrington
Helen Grace Herrington was born in Page, Oklahoma in 1907. In fact, the town of Page was named after her father. Helen is of Choctaw Indian descent. She attended the Oklahoma Presbyterian School for Girls in Durant, Oklahoma. She later moved to Sperry and enrolled in Sperry schools. Following high school, she attended college and received her Masters degree from the University of Tulsa.
Helen managed to secure a teaching position at Sperry where she taught first grade during the 1926-27 school year. She enjoyed teaching at the elementary level and experienced much success. Her success was due, in large part, to the love that she had for children despite having none of her own. She later taught in the Tulsa Public School system from which she eventually retired. Helen Grace Herrington lived to the age of 91. She died on July 30, 1998 and is buried in Rose Hill Cemetery in Tulsa, Oklahoma.
---
Cliff and Helen Grace considered the Sperry School system to be their family. As a result, they made provisions in their will for awarding several annual scholarships to deserving Sperry graduates. In addition, $2,000 per year is earmarked to help maintain the Sperry football field which was dedicated as Herrington Field in 1960. In addition, their will provided for the formation of a Foundation which was formed in 1994. Cliff and Helen Grace will live on through the Cliff and Helen Grace Herrington - Sperry Schools Foundation and the Herrington Football Field with their contribution of over $200,000.

Note: Special thanks to Bill Phillips ('43) for assisting in the creation of this page.